Filed under:
News/Events
- Posted on Monday, March 20th, 2006 @ 12:53 pm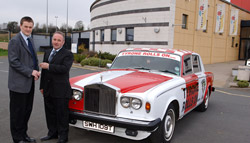 The Cormac Trust was set up to honour the memory of Cormac McAnallen and since last June the Trust has been mainly involved in placing defibrillators in our local communities through our sports clubs. By Wednesday of this week, it will have placed 47 defibrillators in local communities in Tyrone and trained almost 300 volunteers in the use of these defibrillators and in basic First Aid. The Trust is currently discussing with the 4 District Councils in Tyrone the training of volunteers and the placing of defibrillators in our main town centres.
The Cormac Trust has also supported a new initiative of training pupils in Tyrone Primary Schools. This is in line with the Trust's overall aim of saving life through the provision of defibrillators to local communities. If CPR is applied immediately to a patient before a defibrillator becomes available the chances of saving a life is greatly enhanced. The Trust has grant aided the distribution of manikins to the Primary Schools in Tyrone so that Primary School children can be taught First Aid and in particular CPR by their teachers who are being trained under this initiative
The Cormac Trust would like to thank everybody who has supported it over the last 10 months and hopes to offer this 'Tyrone' Rolls Royce in a Cormac Trust Fundraising event in the not too distant future. The Rolls has been very generously donated by Nigel McCullagh, proprietor of Glendale Limousines (Omagh) Ltd.