Filed under:
News/Events
- Posted on Thursday, March 24th, 2022 @ 1:24 pm
In November 2021, the Cormac Trust handed over a cheque to REMEDI Research Team in NUI Galway, who are working on a possible cure for LQT Syndrome, one of the most common and devastating SADS conditions which can strike even a healthy young person, causing sudden death. The research, which is being spearheaded by Chinese doctor, Professor Sanbing Shen, and supported by Terry Prendiville, of Crumlin Hospital Dublin, who is Chair of the Inherited Cardiac Conditions Committee of the Irish Heart Foundation. Terry Prendiville sums up the research as follows:
" Sudden unexplained death in the young (SADS) tragically strikes approximately 160 families a year on the island of Ireland. This is often the first time a family comes to medical attention and the condition may affect up to half of close relatives, unbeknownst to them. The Cormac Trust are funding research at NUIG REMEDI that allows us for the first time to study heart cells from a person (alive or deceased) in a dish to try and discover the cause of death, if unknown, and to develop genetic cures that will be the treatment of the future."
The Cormac Trust recently held a very successful Golf Day, organised by Kevin McCloy along with the Cormac Trust Committee, in order to fund this research, and they wish to thank all the teams, individuals and businesses who took part and sponsored the Golf Day.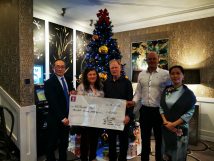 Included in the photo are, left to right: Sanbing Shen (Professor of Fundamental Stem Cell Biology, NUI Galway), Bridget McAnallen (Founder and Trustee, the Cormac Trust), Brendan McAnallen (Founder and Trustee, the Cormac Trust), Kevin McCloy (Trustee, the Cormac Trust) and Guangming Yang (Professor and Chinese Director, Institute of Chinese and Regenerative Medicine at NUI Galway).