Filed under:
News/Events
- Posted on Wednesday, March 3rd, 2004 @ 12:20 pm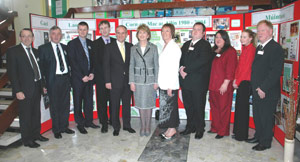 STAFF and pupils at St Catherine's College, where the late Cormac McAnallen taught, have this week paid tribute to a collegaue, friend and mentor.
"The Board of Governors, Principal, staff and pupils of Saint Catherine's College deeply regret the sudden death of their colleague, teacher and friend Cormac.
"Cormac joined the staff in August 2002 as Teacher of History/Politics and Gaelic Games. His very fine qualities of leadership, focus, commitment, loyalty, integrity, youth, vigour and optimism were always evident in abundance.
"A dedicated professional, he combined his sporting commitments to club, county and country with his responsibilities as a teacher.
"With consummate skill, he succeeded in transferring his inspirational talent to his profession. Indeed in his first year of teaching he was promoted to the post of Youth Sport Co-ordinator.
"Cormac had a very promising career ahead of him in Saint Catherine's College. Indeed Margaret Martin (Principal of Saint Catherine's College) referred to him as the Cuchullan of the 21st Century.
"Although not granted length of days, he managed in his 24 short years to attain excellence in his sporting and professional life, a feat known to few in a lifetime.
"Pupils teased him on more than one occasion about the Tyrone kit bag carried with such pride. Although his teaching career brought him to Armagh, no-one was left in doubt as to where his sporting allegiance lay. However, he had a huge regard for Armagh and their 2002 victory in Croke Park.
"The school community of Saint Catherine's College remember, with affection and great pride, the send-off they gave their hero on the day he took his leave of the College before the All Ireland final.
"We were privileged to celebrate his many sporting achievements. He shared them freely with us. He made us part of his team, his club, his county and his country. We journeyed with him to Croke Park in September, and enjoyed his success. In such a short life, he has gained every accolade in the GAA and carried it so graciously, so humbly and with such distinction.
"Cormac was an inspirational teacher of History and Politics. He was very highly respected by all who were privileged to work with him, both in his profession and his sport.
"The entire school community is the poorer for his passing and the richer for having shared his friendship."