Filed under:
News/Events
- Posted on Tuesday, April 12th, 2005 @ 12:15 pm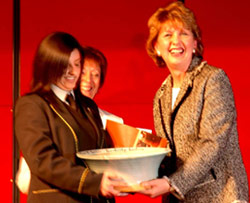 President pays tribute to 'true leader' Cormac
A glowing tribute has been paid to the "exemplary leadership" of Eglish GAA star Cormac McAnallen by the Irish President. Mary McAleese was speaking as she delivered the inaugural Cormac McAnallen Leadership Lecture at St Catherine's College in Armagh, where the All-Star used to teach.The President said everyone could learn something about leadership from the Tyrone football captain, who was only 24 when he died of a rare cardiac condition.
"It has been said that he has 'left behind much, much more than an empty jersey hanging on a peg," said Mrs McAleese.
"For Cormac left the gifts of exemplary leadership, of passion for life itself, of discipline, sacrifice and courage, of generosity and service to others."
Cormac McAnallen enjoyed an illustrious sporting career in his short life. He was an All-Ireland senior football winner with Tyrone and an Ireland international. He also captained Tyrone to All-Ireland titles at minor and under-21 level.
President McAleese said that behind the glittering list of titles and accomplishments lay a story of always putting the team first.
"It starts with a vision for the self but it ends up being a vision for community and for country."
She added that Cormac's life said to each young person that no matter what their circumstances, to seek the best in themselves, build on their strengths and confront their weaknesses.