Filed under:
News/Events
- Posted on Monday, February 6th, 2006 @ 1:00 am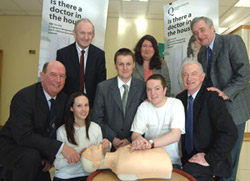 Basic Life Support for Schools
Northern Ireland has the highest incidence of heart disease in Europe. 1 in 3 men and 1 in 4 women will die as a result of this condition. Every year in Northern Ireland 6,000 people suffer heart attacks resulting in 3,000 deaths. 2,000 of these heart attacks occur suddenly and without warning. In many cases the individual dies before medical or paramedical help arrives. If immediate basic life support was available to all of these victims, up to 1,800 lives could be saved. At present less than 1% of the population knows how to give basic life support.
The ABC for Life programme was launched in February 2005 at Queen's University Belfast. It was developed by a group of Queen's medical students and is the first of its type in the UK. The programme is designed to teach basic life support skills to 25,000 10 and 11 year old primary school children throughout Northern Ireland each year so that within 10 years up to 250,000 young people would be capable of helping a heart attack victim and if necessary keeping them alive until medical or paramedical help is available. Medical students from Queen's University instruct schoolteachers in the essential techniques of basic life support. The teachers then teach these life saving skills to the Year 7 children in their primary school.
Training sessions take place in the community. A medical student will hold a training session in a 'base' primary school to which teachers from other nearby schools will be invited. The school children are taught a simple, easy to remember series of steps to take if they encounter someone who has collapsed at home or in the community. The programme will ensure that many more people in our towns and communities will have the skills and confidence to perform basic life support on someone who has suffered a heart attack.
As of December 2005, 63 primary schools throughout County Tyrone have enrolled in the scheme. Schoolteachers have completed the initial training phase in 36 of these schools. Every participating school in Northern Ireland will be issued with training materials including a manikin, a dummy used to practice life saving skills on.
The Cormac Trust is committed to providing resuscitation training and equipment to communities within Tyrone and so it seemed appropriate that it would support this unique initiative. The Trust is funding the provision of the necessary training materials to the participating schools in County Tyrone. Manikins and other teaching aids were distributed in Omagh on Friday 3 February 2006 to the 36 schools who have enrolled in the scheme and completed teacher training. The remainder of the Tyrone schools will receive their training equipment on completion of teacher training.
The Cormac Trust would appeal to primary schools in County Tyrone and elsewhere in Northern Ireland to support The ABC for Life programme. It will provide children in your area with a unique opportunity to learn skills that can save lives. Any schools who would like to enrol in the scheme can contact Dr McCluskey at the:
Institute of Clinical Science,
Royal Victoria Hospital,
Grosvenor Road,
Belfast BT12 6BJ,
e-mail d.mccluskey@qub.ac.uk