Filed under:
News/Events
- Posted on Friday, January 30th, 2015 @ 1:11 am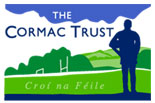 The charity is currently recruiting for the post of Executive Officer, the main areas of responsibilities would include the day to day running of the charity, fundraising, communication, dealing with the media and raising awareness of SADS.
The Cormac Trust Executive Officer job specification
Overview
The Cormac Trust was formed 10 years ago after the sudden death of Cormac McAnallen. The charity has four main objectives:
To raise awareness of sudden cardiac death in young people, or SADS (sudden arrhythmic death syndrome) and its causes;
To promote cardiac screening for young people;
To provide education and information to raise awareness at government level and among other authorities as to the value of providing facilities for the screening of young people;
To help local communities to have access to defibrillators, and to be trained in CPR and their use.
The charity is currently recruiting for the post of Executive Officer, who will be responsible for the day to day running of the organisation.
Status of Post: Permanent
Salary: £30,000
Hours: 37.5 per week (although some flexibility is required)
Main Responsibilities
Operations – Management of the Cormac Trust office, including all communication and enquiries; representing the Cormac Trust in the media with interviews; producing publicity materials and giving public presentations, overseeing the finances and accounts; travelling to various parts of the North and other parts of Ireland, including occasional events in the evening and at weekends.
Education – Raising awareness of SADS and screening for SADS, by conducting presentations in schools, sports clubs, conferences etc. Updating and creating material on SADS. Learning and acquiring information on issues regarding SADS; networking with contacts – families and other organisations, as well as medical people concerned with SADS.
Communication – Reporting to the Cormac Trust Administrative Committee as often as required, following the guidelines and ethos of the founders. The individual must be comfortable conducting interviews with the print and broadcast media and be able to produce press releases, leaflets, fact sheets, and information packs.
Fundraising– Coordinating and planning fundraising events throughout the year. Seeking out alternative sources of funding for the charity. Attending and supporting events which  have been organised by supporters of the charity.
Undertaking any other task deemed appropriate by someone at this level.
Essential Criteria
The successful applicant should have achieved a minimum of third level education, preferably a degree in an appropriate subject.
Excellent interpersonal, communication and media skills.
At least 3 years experience in working in the roles as outlined above.
Hold a valid driver's licence and access to a car.
Desirable Criteria
Excellent knowledge of cardiac and general biological issues or have a willingness to learn.
Background and/or qualifications (including demonstrable ability in the above skills) in either communications, medical studies or teaching.
Please forward your CV to – info@thecormactrust.com or post to Bridget McAnallen, The Cormac Trust, 61 Main St, Benburb, Dungannon, County Tyrone, BT71 7LG by 5.00 pm on Friday 27th February 2015
http://www.communityni.org/job/cormac-trust-executive-officer-0